Warmth for the Winter
Contact Us
Ontario's Coats for Kids program provides free outerwear for thousands of children in need
This article was written exclusively for Knights.net, the members-only digital portal from the Knights of Columbus. Looking for more? Join the Knights of Columbus today.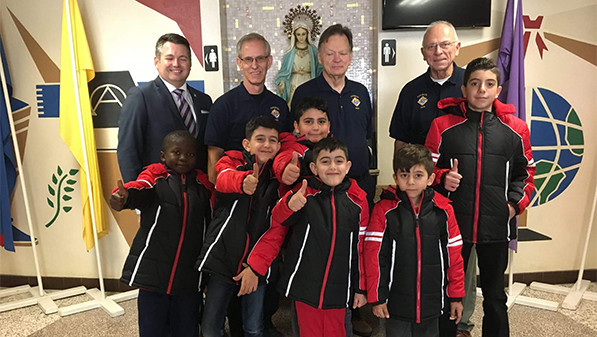 Rarely has a mission statement been so succinct and yet so far reaching: "There are school kids in Ontario who simply do not have a winter coat. We aim to fix this problem."
That's the concern and goal of Ontario Coats for Kids, a collaborative initiative involving approximately 100 Knights of Columbus councils, the State Council, general insurance agents and field agents throughout the Canadian province.
Coats for Kids has been a major initiative of the Knights of Columbus throughout North America since the program launched in 2009. To date nearly 500,000 coats have been distributed throughout the United States and Canada. In winter 2017 alone, the Knights of Columbus distributed 105,192 coats in 1,600 communities – working with school systems, military bases, Native American communities, inner-city neighborhoods and local police and fire departments.
In Ontario, the program was operating for several years, sponsored independently by individual councils serving their local communities, but then General Agent Neil Bouvier of Hamilton thought there might be a better way. He wondered if an agency could collaborate with councils to work toward a common cause.
Surprised by Need
So in 2015, with some help from Past State Deputy Nat Gallo, the Bouvier Agency partnered with two local Hamilton councils in an inaugural Hamilton Coats for Kids program. Together they donated 84 coats to four Catholic schools and to the diocesan Office for Refugees, but that wasn't enough to meet the need. So in 2016, they expanded to 19 councils in the region and created a website that provided more information on the initiative.
"We also reached out to the Hamilton-Wentworth Catholic District School Board," Bouvier said. "We explained to them what we were doing and asked if they were able to provide us with actual numbers of coats needed. They did, and were we ever surprised."
The following year, Hamilton Coats for Kids partnered with the Ontario State Council and four other K of C insurance agencies. Soon they were supplying coats to the neighboring Niagara Catholic District Schools as well.
"Opening hearts and wallets to 'spread the warmth' of ensuring coats on the backs of all needy children throughout Ontario was the goal," said Ontario State Deputy Dan Heffernan.
Heffernan and the five Ontario general insurance agents work together to purchase the coats and establish a delivery network through the agents, councils and districts. School staffers then make sure that the students with greatest need receive a coat.
Rising Hopes
In 2017, Ontario Coats for Kids had 99 participating councils that distributed 5,256 coats. The goal for the 2018 campaign is 7,500 coats, yet Heffernan aims still higher. He hopes distribution will reach 10,000, nearly double last year's figure.
Purchases are made through a Canadian supplier that provides a heavier weight of coat for the harsh Canadian winters. That's important especially for the refugees and immigrants the program serves.
"We have many 'new Canadians' who have never experienced a cold, snowy Canadian winter," Heffernan explained. "The necessity for ensuring proper winter clothing, especially coats, is paramount when children are trying to learn, as well as be accepted into their school peer group. We change that by our generosity and kindness."
Grateful Reception
Catholic school officials are acutely aware of the benefit Coats for Kids provides to students in need. Having a warm coat for school ensures all children have opportunities to succeed socially, emotionally, academically, and spiritually, said John Madalena, equal opportunities consultant for the Hamilton-Wentworth Catholic District School Board.
Patricia Akers, principal at Holy Name of Jesus Elementary School in Hamilton, recently expressed her appreciation to Bouvier.
"Your generous donation of new coats brought much excitement to our students, as they chose new coats: 'Thanks, now I have a coat of my very own.' 'Wow, this is awesome.' 'Now, I will be warm for the winter, my Mom will be happy,'" she wrote, quoting some of the notes of gratitude from the schoolchildren.
In reflecting on the Coats for Kids program, Heffernan is reminded of the Prayer of St. Francis: "It is in giving that we receive."
"This adage could not be truer in this situation," he said. "The satisfaction of knowing that you were responsible for putting a smile on the face of a child by providing them with a warm coat is incomparable."
Learn more at ontariocoatsforkids.com, or donate toward Coats for Kids to help provide winter gear for children across the United States and Canada.
Articles