Remembering Pope John Paul II
3/29/2009
Supreme Knight's Interview with "Totus Tuus," the Official Magazine of John Paul II's Cause for Sainthood
Totus Tuus Interview
Carl A. Anderson, Supreme Knight, Knights of Columbus
and Vice President, John Paul II Institute for Studies on Marriage and Family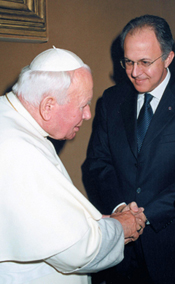 Totus Tuus: Defending the integral truth of the family founded on marriage between a man and a woman is becoming especially urgent in this day and age. Making known God's plan in regard to matrimony and the family was a particular aspect of the priestly ministry of Karol Wojtyla even before becoming a primary focus of his Petrine ministry. Could you lay out for us the essential characteristics of the divine plan for matrimony and the family?
Anderson: In this regard, John Paul II was truly prophetic. John Paul II wrote in Familiaris Consortio that "God is love and in Himself He lives a mystery of personal loving communion." Because we are created in the image of this loving Trinitarian God we are created with the capacity and the responsibility of a similar loving communion. John Paul II would say repeatedly that each human person possesses a vocation of love and communion. This vocation of love is first experienced and taught within the family. The Christian realizes that both marriage and family reflect in a human way the loving communion of Father, Son and Holy Spirit. In this way, the vocation of love and communion is written into the very concreteness of all human existence. We might say that in making it possible to realize the vocation of love, the personal communion that is possible within marriage and family becomes the model by which to measure all human associations. Of course, John Paul II defended the moral integrity of marriage, family and human procreation with great courage and also with great charity. The truth is that God sent His Son into the world, not to condemn the world, but to save it; not to deprive us of happiness, but to give us abundant life. Thus, Christ's way for the family is a life-giving, not a life-depriving way of living. This is a way of living that draws its source from Christ whose way of loving was without conditions and without limitations. This is what shines forth in the teaching of John Paul II.
Totus Tuus: "Loving Human Love: The Heritage of John Paul II on Marriage and the Family" was the theme of the 25th International Congress of the Pontifical John Paul II Institute for Studies on Marriage and Family. In what way do you hand on this rich heritage as vice president of the Washington Session of the Institute and as Supreme Knight of the Knights of Columbus?
Anderson:"Loving human love" is such an accurate way to describe the heritage of John Paul II because perhaps more than anyone else in our time, he was truly the champion of human love. He knew that without love, man's life is unintelligible and that each person is of such tremendous dignity that only the response of love is worthy of the human person. I was privileged to first meet John Paul II in 1981, to begin teaching at the Institute in 1983 and to serve as vice president of the Washington Session since 1988. The Institute is dedicated to comprehending and transmitting the Christian understanding of the human person in light of Christ's revelation of God's love in the context of marriage and family. Our graduates help guide the formation and education of priests, taking leadership roles in the pastoral work in dioceses and parishes as well as in professions such as law and medicine. The teaching of John Paul II in this area is so rich and complex that it will require many decades of scholarly study in both speculative and pastoral theology to do it justice. In the Knights of Columbus, as an organization of more than 1.7 million men we take a more direct approach: we strive to build stronger Catholic families and parish communities through works of charity, unity and fraternity. We view the pastoral legacy of John Paul II regarding marriage and family as the prophetic key to the future of strong Catholic communities. We take his message to heart of a new evangelization in which the role of the family and of the laity is central to the future well-being of the Church. He will remain a spiritual father and guide for many years to come.
Totus Tuus: In Crossing the Threshold of Hope, John Paul II writes, "If one loves human love, there naturally arises the need to commit oneself completely to the service of 'fair love,' because love is fair, it is beautiful." Professor Anderson, what has been and continues today to be your experience of "fair love"?
Anderson: If each person has within himself or herself a vocation of love, this love is inseparable from each person's dignity and therefore the only love worthy of the human person is a love that is true. We all know this to be true in the depth of our hearts because we all search for a love that is true, we all search for true love or, as John Paul II says, for the love "that is fair, that is beautiful." This is the love of which Saint Paul writes, "Love bears all things, believes all things, hopes all things, endures all things. Love never ends" (1Cor13:7-8). We know that the source of this love can be found only in Jesus Christ.Yet we can experience "fair love" reflected in the experience of marriage and family and this has been my experience of "fair love" – first in the family into which I was born and then the family into which my children have been born. Perhaps this is why Saint Paul also writes in praise of the "Father, from whom every family in heaven and on earth receives its name" (Eph 3:14), since it is in the family that this "fair love" is first revealed to us.
Totus Tuus: On June 28, 2005, you and your wife Dorian participated in the Opening Ceremony of the Cause for the Beatification and Canonization of the Servant of God John Paul II. You also had the opportunity to be received on a number of occasions in private audience by John Paul II. What do you remember in particular about those meetings?
Anderson: Earlier, Dorian and I were together in Saint Peter's Square for the Funeral Mass of John Paul II. We saw those beautiful banners that proclaimed "Santo Subito" and on that day we made that prayer our own; so we had to be in Rome in 2005 to participate with so many friends in the Opening Ceremony of the Cause of John Paul II. Private meetings with John Paul II were always remarkable because of his great interest in what was happening; he wanted the latest information about how situations were changing, what should be done to help and especially what could he do as pope to help. Yet conversations would often include questions about people he knew – were they well, how were their families, how was their work going. He was pastor of the universal Church and he was also pastor of individuals and of families. One special occasion was a meeting in which he blessed a special painting of the Divine Mercy that we then used for a special pilgrimage throughout the Knights of Columbus. He wanted very much to spread this devotion throughout the world and we wanted to be more closely united with him in this prayer. On one of our last visits, the Holy Father was having great difficulty speaking and so our conversation was mostly one-sided. We said good-bye and received his blessing. When we reached the door of his study, I turned to wave a final good-bye and he was sitting there repeatedly making the sign of the cross. Not even illness could prevent his desire to communicate with others. This was just a small glimpse of what the world would later see during the last days of his life.
Totus Tuus: Christmas is drawing near. In his Letter to Families, John Paul II wrote, "If in fact Christ 'fully discloses man to himself,' he does so beginning with the family in which he chose to be born and to grow up." Professor, I would like to conclude by asking you how you celebrate Christmas and if you would give a special greeting to our readers.
Anderson: Christmas, of course, is a time for home and family. When we lived in the Washington, D.C., area we would go with our children on a "mini" pilgrimage to the Basilica of the National Shrine of the Immaculate Conception for Christmas Eve Mass. We like to fill our home with Christmas. We decorate our home during Advent with crèches that we found while visiting different countries, including Italy, Ireland, Canada, France, Mexico, Zaire – and the most recent addition will be Poland. We decorate our Christmas tree with ornaments we have found while traveling and we also like to listen to Christmas music, especially traditional hymns from throughout the world. Christmas is also a time for hospitality and we make room for those who may not have a family nearby.
As for a Christmas greeting, I would recall words of John Paul II that I shared with my brother Knights of Columbus several years ago: "Let us surround the place where God was made man with a vast crown of hearts! Let us form a circle and court above this Virgin, who gave Him human life on the night of the Birth of God! Let us form a court about the Holy Family!"